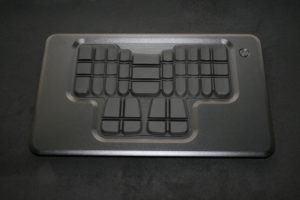 Powerful! Stunning! Perfect touch! Thin! Light! Versatile!
The perfect writer for those who want to be the best. Johnny Jackson has drawn on 40 years of reporting experience and his unrelenting passion to create the most advanced keyboard ever.
Destined to become the most desired object in the history of the profession. The 121 sensors, the enhanced vowels, the advanced software, and the StenAudio app are all advances that will enable you to write with speed, precision and confidence!
Certainly, no student should be using any other writer.
New software provides foot pedal support, facilitating multiple keyboard layouts, making finger-spelling simple and easy, as well as typing numbers.
Accuracy when pressing two keys with your fingertips has never been so easy, with sensors under every crack.
The very sensitive touch and the ability to write with it laying on one's lap make it the most TRULY ERGONOMIC keyboard one can buy.
DISCOUNTS:
Those who purchased LightSpeed writers from Stenovations in the past, even if they returned the writer,  will be given a $600 discount.
Reporters who rent the digitalCAT software or have a support contract with Stenovations will receive a $600 discount.
Students also are given a substantial discount.
PLEASE CALL when placing an ORDER if you are ELIGIBLE for a DISCOUNT. ONLINE ORDER software DOES NOT COMPUTE DISCOUNTS.