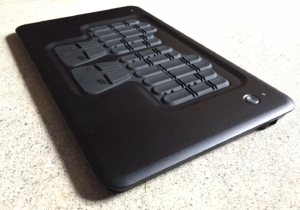 Powerful! Stunning! Perfect touch! Thin! Light! Versatile!
Destined to become the most desired object in the history of the profession. The 121 sensors, the enhanced vowels, the advanced software, and the StenAudio app are all advances that will enable you to write with speed, precision and confidence!
Accuracy when pressing two keys with your fingertips has never been so easy, with sensors under every crack.
Those who purchased LightSpeed writers from Stenovations in the past will be given a substantial discount. Reporters who rent the digitalCAT software or have a support contract with Stenovations also qualify for a substantial discount. Students also qualify for a discount.
PLEASE CALL TO PLACE AN ORDER IF ELIGIBLE FOR DISCOUNTS. ONLINE ORDERS WILL NOT PROVIDE DISCOUNTS.